HUBBARD
Hubbard -The name Hubbard/Hobart can be traced all the way back to a Viking sea king named Hubba (Ubba, Ubbe), whose father was the Viking warrior Ragnar Lodbrog. The name Hubbard is now worldwide, but is associated with Leicestershire and counties along the east coast of England.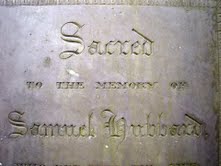 We can trace back to a William and Catherine Hubbard whose son John married Margaret Knowland. John and Margaret were both born in 1759. They had at least two sons John and Samuel. By 1828 Samuel was listed in Pigot's National Directory as a Maltster living at Free School Lane, central Leicester. A maltster would supply fine malts for the brewing of beer, ales and meads. In the 1800's it was hard to find clean drinking water, so the drinking of alcoholic beverages was safer as they were free of bacteria; not that it was fully understood quite how at that time. A maltster was not necessarily a brewer or pub owner as his was a specialism to supply to others.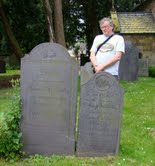 S
amuel's grave in All Saint's churchyard, Blaby, Leicester. Next to it is the grave of his little daughter, Mary Hubbard who died 12 August 1820, aged 3 years 8 months. My brother Nick and I visited these graves for the first time in 2012.
Samuel married Sarah Waddington who came from a prosperous Yorkshire family. They must have been fairly well off as they were able to educate their son John Waddington Hubbard who qualified as a medical doctor.