Arthur Benoni HUBBARD
Fifth child, third son of Arthur John HUBBARD and Charlotte Marian VIZARD
Born 20 January1902, 69 Barrowgate Road, Chiswick, London
Baptised privately 7 Feb. 1902, public church reception 8 March 1902.
Sponsors were Herbert VIZARD, Charles E. WILKINSON and Mrs E. J. GALLOP.

Died Friday 8 February 1946, Ashby, Scunthorpe, Lincs. Buried Bottesford, nr. Scunthorpe, Lincs.
The service was taken by his brother, The Rev. George Edward HUBBARD.
Known affectionately as Ben.
Frances A Roper (née HUBBARD/sister) writes
Judith F HUBBARD (niece) writes
Laurie A HUBBARD (nephew) writes
John WP HUBBARD (nephew) writes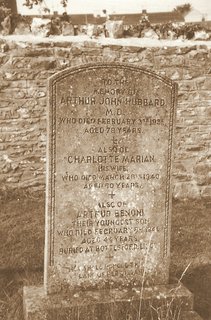 Gravestone at Littledean, Gloucester.

TO THE
MEMORY OF
ARTHUR JOHN HUBBARD
M.D.
WHO DIED FEBRUARY 3RD 1935
AGED 78 YEARS
+
ALSO OF
CHARLOTTE MARIAN
HIS WIFE
WHO DIED MARCH 28TH 1940
AGED 80 YEARS
+
ALSO OF
ARTHUR BENONI
THEIR YOUNGEST SON
WHO DIED 8TH FEBRUARY 1946
AGED 44 YEARS
BURIED AT BOTTESFORD, LINCS.
+
THEY SHALL BEHOLD THE
LAND OF FAR DISTANCE. Isa.33