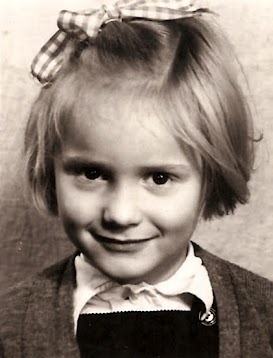 Aged about six or seven.
Judith Frances Hubbard
and at times -
Judith Frances de Brissac Hubbard (this was encouraged by Aunt Frances., but not generally used.)
Daughter and first child of George Edward Hubbard and Mollie Edith Buckett
Born 20 January 1949 at South London Hospital for Women and Children

The table below shows how I understood my family as a child when I was about ten years old. I've kept full names for the immediate family - I wouldn't have known the full names for other members of the family. As a child, when you rarely meet people, they remain only vague.
We rarely saw Uncle Jack and Auntie Margaret. Of my cousins, I only remember Michael.
John and Laurie were much older, and were away at school and college.
Father's parents had long died, as had my mother's mother.
Mother had a weekly ritual of 'writing home' - long letters to her father about what was going on. We used to stay with Grandpa and Auntie Phyl quite often so knew them well enough and they us.

Aunt Frances and my mother had a great fall out over how I was to be brought up. (Aunt Frances was also my god-mother, and took my interests to heart.) Apart from when I was a baby, I must have been about thirteen before meeting Aunt Frances. She was working on a pharmaceutical locum nearby and so paid us a brave and only visit to Milton Malsor near Northampton. I remember my brothers and I being absolutely dumbstruck by seeing her and father embrace warmly - a thing we never saw him do with anyone else. She and he always had a stormy relationship but that didn't stop them showing each other true affection.
I got to know Uncle Doc only later. He was a lovely warm character and it would have been good to have known him better when we needed more positive family around us.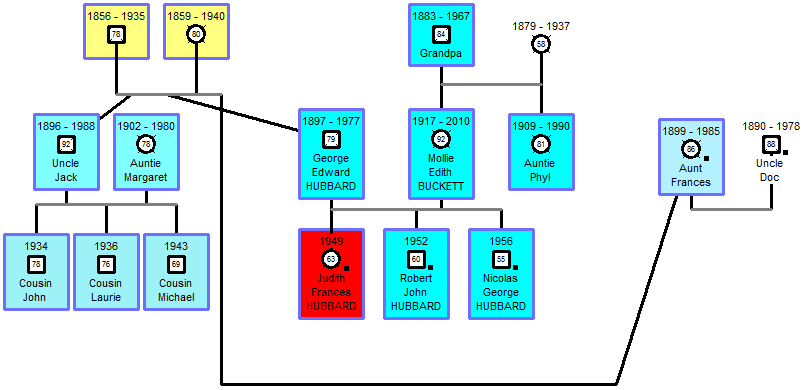 My family as I would have seen it when aged about 11years old.