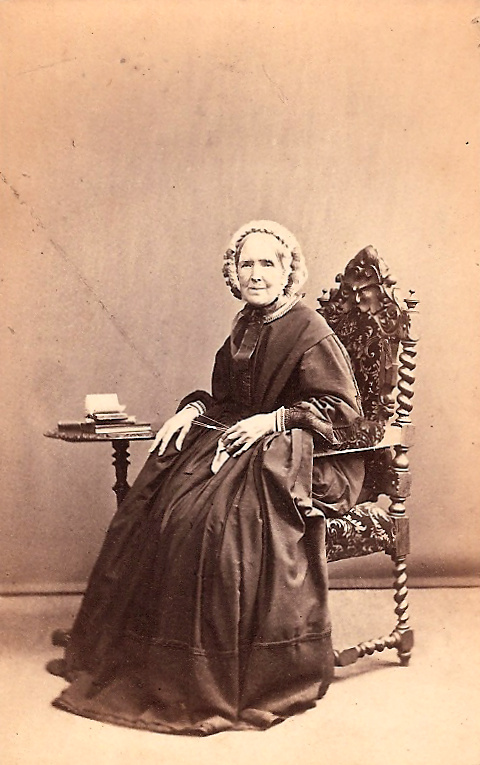 Photograph taken 26 September 1864 - she was aged sixty nine.
Sarah WADDINGTON
Born 1795 in Clifford, Yorkshire.
Daughter of John Waddington 1745-1819 of Clifford and Ann Brown d.1827
Died 1870 Foss Road, Leicester.
Buried in Leicester Cemetery, with her daughter Sarah Ann Waddington HUBBARD.
Married 16 July 1822 at Christ Church, York, to Samuel HUBBARD 1791 - 1832
Children -
John Waddington HUBBARD 1823 - 1871
Sarah Ann Waddington HUBBARD 1825 - 1864
Mary HUBBARD 1827 - 1830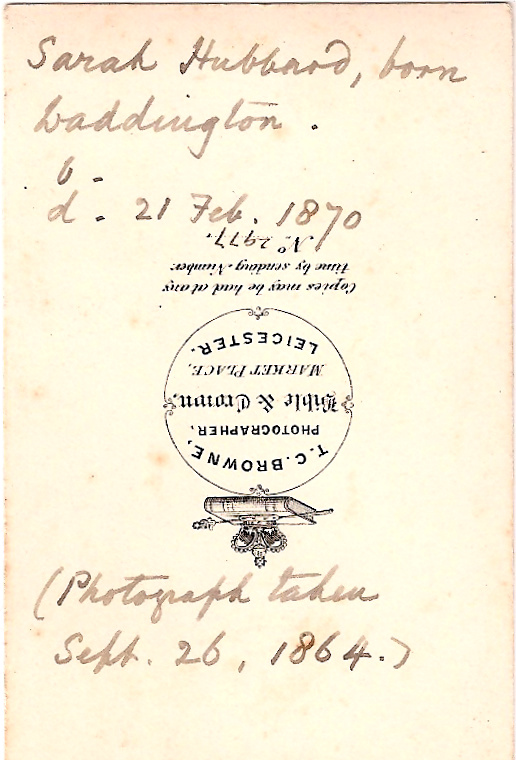 Back of the photo = information is in Frances Hooper's (née HUBBARD) handwriting.
Frances was a grandaughter, daughter of John Waddington Hubbard.

Photographer = T.C.Browne "Bible & Crown" Market Place, Leicester. (no. 2977)

In her left hand Sarah holds some crochet work.

The picture was taken eight months after the death of her daughter Sarah Ann Waddington Hubbard,
so she would be two months beyond the (then) official six months mourning time.
In the Leicester record office there is a copy of a legal document showing she was the joint owner and proprietor with Charles and Charlotte Smith, (Charles was a victualler) and John Hubbard (supervisor of exise) of about twelve dwelling houses and properties. She had equal ownership on the death of her husband Samuel.
Hubbard list<< Back >> Waddington list