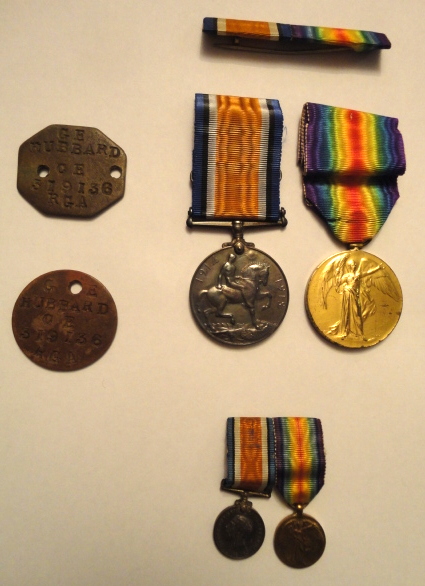 British War Medal 1914-1920 (WW1) on left; Victory Medal on right

The minature medals were used (in peace time) on the clergy black scarf for 'choir dress' worn for occasions like Remembrance Sunday.

1) I don't really ever remember father talking about his war years as a very young man of eighteen years and onwards. However he did take Nick (NGH) to France
Nick writes - Somme - Revisiting old grounds
1969
This was an emotional time for father - me too - father never cried! He did here.
He had never spoken of his action in detail - nor did he here. He mentioned his helmet had protected him from a bullet; he blamed his deafness on the large guns.
Perhaps we were more interested in the logistics of hiring a taxi to travel around the villages near Arras - than those of the actual activities in 1916? (No - we had a fascinating day exploring.)
We visited cemeteries. Some large; some small. One village we visited was probably the village of Courcelles-le-Comte. Now rebuilt -
You get the idea from this...
http://www.achiet-le-grand.org/postcards.htm
During the Second World War his work kept him in India and did not see active service.
2) Hi Judith
Attached is a scanned record for father. (Row 2. first column.)
The regiment number 319136 and roll number are typed on his medal box; the number
319136 is also on his dog tags.

War Office: Service Medal and Award Rolls Index, First World War. Medal card of
Hubbard
, George E
Corps Regiment No Rank Royal Garrison Artillery 319136 Acting Corporal
Inns of Court Officers Training Corps
5900
Acting Corporal.

Interesting...

Nick


3) Look at - Inns Of Court Officers Training Corps During The Great War [Paperback]
Col. F.H. L. Errington (Editor)
On Amazon - I previewed the book - searched for 5900... see attachment
There's this address:
34 Bedford square WCI
I assume:
30/8/15 - his enrollment (aged 18 years and 15 days!)
20/9/16 - dispatched to R G A (Royal Garrison Artillery) (19 years old)


4) http://www.dacorumheritage.org.uk/ww1-inns.htm
This ties the Inns of Court OTC Regiment nicely to Berkhamsted.
5) See also
http://www.aaschool.ac.uk/AALIFE/BEDFORDSQUARE/bedford.php
6) British War Medal 1914-1920 (WW1) This medal takes the form of a solid silver medal with an image of a mounted figure of St George trampling the shield of the central powers with the dates 1914 and 1918 thereon. The reverse has the coinage head of George V. The qualification for the award was service within the three armed services or within any Commonwealth or Imperial unit or within certain recognised voluntary organisations. No bars were issued and applied to all theatres of war and certain categories of service within England. The award is usually found with the Victory medal but was awarded singly. Some 6 million were issued in silver with 110,000 issued in bronze to natives of various labour corps. The medals were also issued for service in Russia and for minesweeping operations.
7) Victory Medal - The British Allied Victory medal, designed by William McMillan. Issued to all British, Canadian, Australian, New Zealand and other colonial forces, except South African. Issued to those whom had already qualified for either the 1914, 1914-15 Stars and/or the British War Medal. Some 6,000,000 of these were reportedly issued, that's a staggering 210 Tonnes of yellow bronze. The design was authorised for use on 1st September 1919.