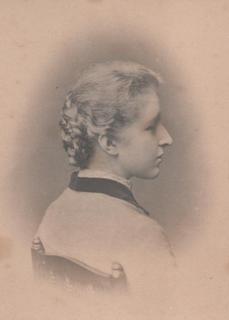 Emma HUBBARD
Born 6 July 1863 Market Bosworth, Leicestershire
(Baptised in the parish church by the Rev. N.F.Small, 2 Aug 1863.
Sponsors The Rev. Lewis Evans, Headmaster Grammar School, Sandbach, Cheshire;
Mrs Hayward and Miss Jane Mary Hayward.)


Fifth child, third daughter of John Waddington HUBBARD M.D. and Emma EVANS,
Married - Colonel Henry Stirling WALKER 28 April 1886 at St Mary Abbots, Kensington

Daughter - Agatha Walker born 10 February 1888
Died 20 Jul 1891 Boxmoor, Hertfordshire. Buried at Abbott's Langley Churchyard. (aged 28)
My Great Aunt.