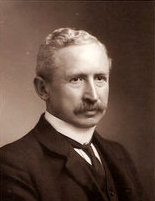 Arthur John HUBBARD MD (Durham 1887)
First child of Arthur Waddington HUBBARD and Emma EVANS
born - 7 November 1856 at Market Bosworth, Leicestershire
died - 4.30pm, Sunday 3 February 1935 at Littledean, Gloucestershire.
Buried in the Churchyard there.
Married - Charlotte Marian VIZARD 10 July 1888 at St Paul's Church, Hemel Hempstead, Hertfordshire, by the Rev E. J. GALLOP.
She was sixth daughter of Edward VIZARD of Dursley, Gloucestershire

Wedding story in the Hemel Hempstead Gazette
They had five children -
Mary Waddington HUBBARD - b+d 27 April 1889
John Waddington HUBBARD - 15 January 1896 - 8 December 1988
George Edward HUBBARD - 31 July 1897 - 3 March 1977
Frances Ann HUBBARD - 6 December 1899 - 24 February 1985
Arthur Benoni HUBBARD - 20 January 1902 - 8 February 1946
Details of training etc. from the Medical Dictionary of 1925 =
HUBBARD - Arthur John, Hill House, Pleasant Stile, Newnham, Glos. - M.D. Durh. 1887; M.B. 1885; L.R.C.P. London 1883; M.R.C.S. Eng. 1883; L.S.A. 1882, (St. Thos. and Newcastle-on Tyne;) late Hon. Med. Off. Kings Coll. Hosp. Convalesc. Home; Ass. Surg. Lond. Rifle V. Brig.; Joint Author (with G. Hubbard) 'Neolithic Dewponds and Cattleways' 1905; Author, 'The Fate of Empires' 1913; 'Succession of the Canonical Gospels' Treas. Mag 1919; 'Antitoxic Serums as Blood Coagulants,' Phys. & Surg. 1900; 'Prehistoric Man on the Downs' (with G. Hubbard) Cornhill Mag. 1906.
Educated at University College School in North London and at Durham University & qualified as a medical practitioner with the degree of Doctor of Medicine.He was brought up as an agnostic but in young adulthood became a Christian after reading John's Gospel. He travelled fairly extensively to the Balkans (like his better-known cousin Arthur Evans) and to Iceland. He met his future wife at Hemel Hempstead and was in general practice there with a surgery in the Marlowes. From Hemel Hempstead he went to general practice in

Notting Hill from which he retired at a relatively early age in 1910.

The family
in the next generations, could never understand why A.J.H. should have retired when he had a young family to bring up.
Perhaps his heart never was fully in medicine? However by all accounts he was a good doctor.
Paternal grandfather of JFH
Aunt Frances (Frances Ann Roper née Hubbard) writes in Victorian Hangover -

Books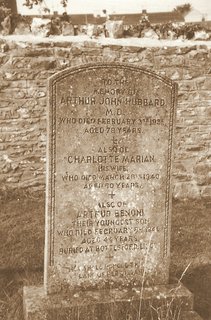 Gravestone at Littledean, Gloucester.

TO THE
MEMORY OF
ARTHUR JOHN HUBBARD
M.D.
WHO DIED FEBRUARY 3RD 1935
AGED 78 YEARS
+
ALSO OF
CHARLOTTE MARIAN
HIS WIFE
WHO DIED MARCH 28TH 1940
AGED 80 YEARS
+
ALSO OF
ARTHUR BENONI
THEIR YOUNGEST SON
WHO DIED 8TH FEBRUARY 1946
AGED 44 YEARS
BURIED AT BOTTESFORD, LINCS.
+
THEY SHALL BEHOLD THE
LAND OF FAR DISTANCE. Isa.33