Welcome to this Hubbard family History website
On this website I am using my paternal grandparents Arthur John Hubbard (1856 - 1935) and Charlotte Marian Hubbard (1859 -1940, née Vizard,) as 'pivotal persons' to show how the various branches of the family are interlinked. Going backwards in time they are descendants or blood relations to all the families mentioned on this site. Going forward in time they are common forebears to my generation together with the children and grandchildren of my first cousins.
The following simplified table shows the relationship between the various surnames.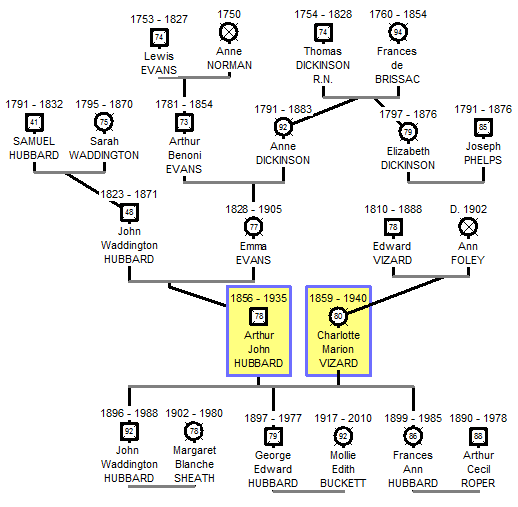 Arthur John Hubbard and Charlotte Marion Vizard .
In the interests of privacy and child protection I end with my own generation. If in the future, someone in the younger generation(s) continues the story, I would be pleased. For the time being however, I pass on some of the knowledge that was passed on to me and what I have found out for myself.
I draw heavily on all the work done by Aunt Frances (Frances Ann Roper, née Hubbard) in her writings and papers. I am also indebted to my brother Nick (Nicolas George Hubbard) for his computer expertise and his own website which runs alongside this one.